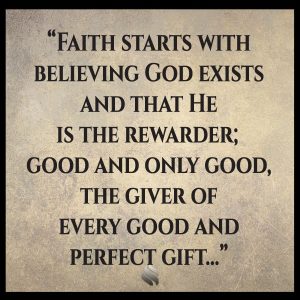 The feeling that God has let you down is the most clear expression that one does not really believe the truth about God and His faithfulness. Religion makes it hard to trust God or to recognize His character. So much theology preached from the pulpits every week is not based on Jesus' representation of God. It is a hodgepodge of religious ideas, subjective reasoning, superstition and religious legalism.
Faith starts with believing God exists and that He is the rewarder; good and only good, the giver of every good and perfect gift; the One who never tests, tries, scrutinizes or causes us to strain or strive. The only way to reach that conclusion is to read the gospels and look at the way Jesus treated people, then simply make a decision.
God has given every person a measure of faith. We all have the capacity to trust in God! When we make that choice based on the truth represented by Jesus, grace (God's power and ability) comes alive in our hearts and makes us able to grasp, feel and experience what we could not previously do!
JOIN ME this week so I can help you establish your heart in a faith that is based on the life, teaching, death, burial and resurrection of Jesus!