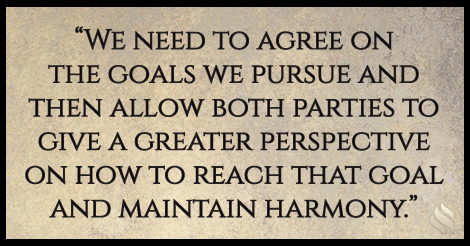 For over forty years of relationship counseling I can't tell you how many times I've heard this complaint. Believe it or not, this is one of the most crucial problems we need to solve to have a harmonious relationship, and it is the easiest!
When God created woman from man He didn't just use a rib as the English translation implies. He took something out of Adam, a part of him both physically and emotionally. The Hebrew indicates that Adam needed someone to watch over him and be a protector, with whom he could live in harmony. I know every man is applauding as they read this, exclaiming, "Exactly!" But I left off part of what the language implies.
The last letter in the word "help meet" is the RESH, which indicates a change in direction, i.e. repentance. If a man and woman are going to become one another's greatest asset it is essential that they keep their unique perspective so they can watch out for and protect one another by helping us recognize when we are off course!
We don't need to change our spouse's perception. We need to agree on the goals we pursue and then allow both parties to give a greater perspective on how to reach that goal and maintain harmony. The purpose of a spouse is to watch out for us, protect the peace in the relationship, and bring us to a change of perspective when needed.
JOIN ME this week and discover all the things you can appreciate about the difference in how you see it and how your spouse sees!