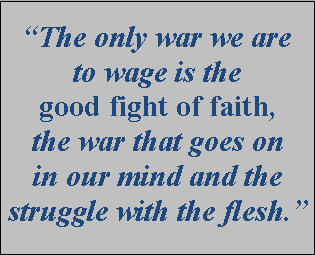 Jesus warned that violent people try to take the Kingdom by force. Then, at the end of that same chapter, He invites us to take up His yoke, which is easy and light. A teacher's yoke is his interpretation and application of Scripture. Jesus gave us the option of trying to do this by force or by believing what He taught and modeled about God!
You don't see Jesus or the apostles fighting the devil over every issue. That very mentality is based on unbelief about Jesus' total victory over the devil at the resurrection. It makes us feel that we are victims instead of overcomers. It keeps our attention focused on a source outside of ourselves instead of on Christ in us.
The only war we are to wage is the good fight of faith, the war that goes on in our mind and the struggle with the flesh. When the believer takes all the time and attention they're focusing on the devil and outside conflict and spends that time in prayer, worship and meditating on the Word, he or she will discover that all those battles arose from our heart and mind.
If you want to walk with God in a way that's easy and light as opposed to a constant battle, join me in this incredible series: Dignity and Worth: The Life Matrix. CLICK HERE to join me now for the first message in the series: The Life Matrix. When we trust and follow Jesus' teaching as much as we do every religious voice, our walk with God will not only be easy and light; it will be victorious!
Join Our Mailing List!
Subscribe to our mailing list and you'll get notifications of new posts along with advanced notifications of sales, special offers, and subscriber-only discounts!
Welcome to the Impact Ministries family! Please check your email to confirm your subscription!