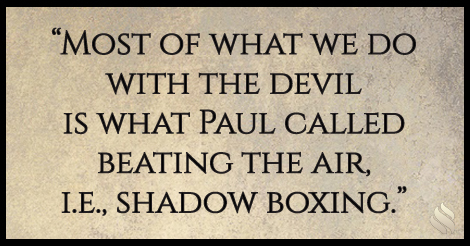 The Bible tells us when we resist the devil he flees from us; nowhere does it say he comes back stronger. When our experience doesn't harmonize with scripture, it's never scripture that's wrong: instead, there's something about our experience that needs adjusting!
The word "resist" means to stand against by setting ourselves in opposition. The main thing people tend to miss about this scripture is this: in order to resist or be in opposition to the devil we must first be submitted to God. We are only submitted to God when we first surrender our beliefs and opinions to His Word and then obey it. Once we are submitted to Him, we are in opposition to the devil. There is no need to go into warfare, binding, loosing or rebuking.
Most of what we do with the devil is what Paul called beating the air, i.e., shadow boxing. We are fighting an opponent that is only there in our imagination. JOIN ME this week, and I'll teach you strategies for fighting and winning the battles that matter.