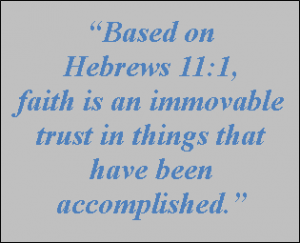 Many wonderful sermons have been preached to help us understand faith, but in the attempt to make it understandable the true message may have been lost in all the examples and stories.
Based on Hebrews 11:1 faith is an immovable trust in things that have been accomplished. Our faith in God is absolute trust in His eternal character and nature. Our faith in God's Word is our immovable trust for what He says. But the key element to all these concepts is faith must be in the heart.
While faith itself is pretty simple there are some components. Jesus said to have the faith of God, i.e. the God kind of faith. There are five major components Jesus identified that comprise the operation of faith and they are all the same phases God operated when He created all things.
God chose the outcome He desired. He saw the end from the beginning. He conceived and experienced the outcome in His heart. He then spoke it into existence. But, I presume it for our good, Jesus added one component: don't doubt, which may be better expressed, deal with doubt when it emerges.
As simple as all this sounds, these components require immovable trust in our heart that what we choose, see and say are already ours and will manifest! This week in Faith in the Heart I want to help you conceive the unseen world and the role you play in making the unseen become seen.