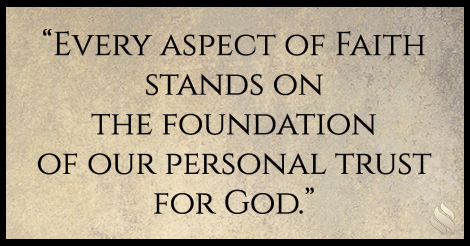 I had a man come up to me after a conference this past weekend and say, "I'm amazed at how many things I believe that are not in the Bible!" This is a struggle that every believer faces. The majority of people do not read and study the Bible for themselves, they depend on others to spoon feed them. The problem is, there is no guarantee that what they're being fed is actually true!
So many people only have one concept of faith: believing enough to get God to do something for me! While that is the fruit of faith it is not the core. Faith is trust, plain and simple! Every aspect of faith stands on the foundation of our personal trust for God. So the real question is not, "Do I believe in healing?" It's more like this, "Do I believe it is God's nature and will to heal?"
We trust those who love us. When we know someone loves us we know they will not hurt us; they will only do good things for and to us. That's why the scripture says faith works by love! JOIN ME this week as we explore the character and nature of God. When you know His true nature you will never waver in your trust!
Join Our Mailing List!
Subscribe to our mailing list and you'll get notifications of new posts along with advanced notifications of sales, special offers, and subscriber-only discounts!
Welcome to the Impact Ministries family! Please check your email to confirm your subscription!