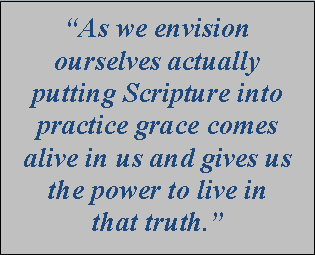 The best place to learn hearing the voice of God is while you are reading and meditating on the Word. When you read the Bible begin by praying, "God, You are my Father. Jesus, You are my Lord. Holy Spirit, You are my Teacher and Guide. I open my heart to hear Your voice."
As you read, take time to ponder what you are reading and consider what it would look like if you were applying it in real life. There will be thoughts, ideas and Scriptures that inspire you. Ponder that inspiration and write it down in as much detail as possible.
The ancient Hebrews had a saying, "There are 70 faces to the Torah." In other words, there are all manner of correct ways to detect the subtle nuances of the Word, but the last thing they considered was, "How do I apply this to my life?"
Don't become one of those people who think that what He is speaking to you is the only correct way to translate a verse. That's called a private interpretation, which is strictly forbidden. See it for what it is, God speaking to your heart.
Then, as much as you know how at the moment, put together your plan for implementing your inspiration. After all, when we refuse to apply what He is speaking today, why would we expect to hear Him tomorrow? The whole idea of hearing the voice of the Lord is to hear and apply it to life.
Don't become too rigid in how you plan to accomplish your inspiration. He is your Shepherd and He will lead you in the path, the way to bring it to pass without strain of struggle. In time, you will grow in your capacity to hear God in any situation.
CLICK HERE to join me this week for, The Light in the Darkness. Build your confidence in your ability to hear the voice of God as you discover how to listen through the lens of the life of Jesus!