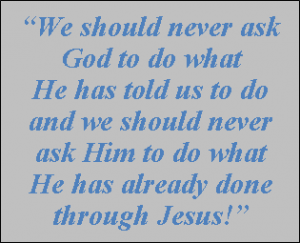 There are a couple of ways to overcome this confusion: follow what Jesus taught and find out what prayer is. The Hebrew word for prayer is a compound word that means "to judge and reconcile." Because we only have a negative concept of the word "judge" we miss the point. Think of it as assess. We should assess any part of our life. We aren't assessing to find out what we're doing wrong, but to see if that part of our life is experiencing the promise.
After assessing we must reconcile. In other words, we must bring our life in line with the New Covenant. If, for example, I struggle financially I must align that part of my life with God's Word. This is one of the best times to apply "put off – put on," i.e. "binding a loosing!" We must declare any part of the curse as illegal based on the finished work of Jesus and send it away. Then we renew our mind and bring it in line with all the promises. We then declare legal and "put on" all those promises that Jesus secured.
This is where we use our authority. Sadly, most believers ask God to do these things for them, but it's our job to do them. Jesus empowers us by the Holy Spirit. We should never ask God to do what He has told us to do and we should never ask Him to do what He has already done through Jesus! To do either of these is not a prayer of faith, it's a declaration of doubt!
In this week's Impact CyberChurch message, Effective, Fervent Prayer, you'll begin a journey that will forever change everything about how you apply God's promises to your life and circumstances. You'll no longer be confused about how to pray!