It is the condition of our hearts that determines whether the Word is understandable or incomprehensible to us.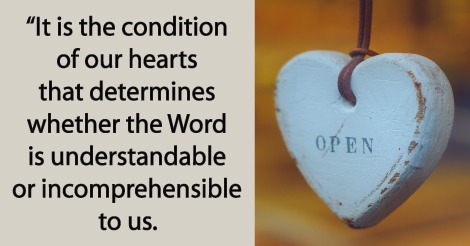 The parable of the seed (Matthew 13) illustrates the underlying conditions of the heart which corrupt our understanding by those who: 1) instantly reject the Word because of hardness of heart, 2) are shallow and because of persecution or pressures turn away, and 3) are deceived by the pleasures of this life and their desire for other things, sowing corrupt seed that is contradictory to God's Word, thereby choking it out. Upon closer examination of why Jesus taught in parables, we see that each of us makes our own choice whether we will hear and understand what God is saying.
When people know what to do but refuse to cease pursuing their lusts, the standard response is, "I am confused, or I do not understand." After 45 years of counseling, I discovered that "I do not understand," actually means "I do not WANT to understand." When we insist we do not understand, it is our religious justification for not believing the truth. Ignorance and misunderstanding about God and His ways are largely preferable to repentance. People who want to know the truth will always find it.
Ask yourself these questions: Am I willing to allow God to show me something that may challenge many of my currently held beliefs? Is there something I want but am afraid I will lose it if I follow God? Am I willing to lay down (repent of) my own way, my views, my opinions, to accept God's offer of heaven on earth?
To discover how to experience Heaven On Earth now, CLICK HERE for Dr. Richards' latest series.