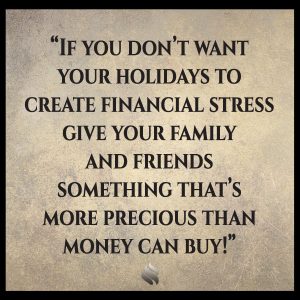 It took a long time for Brenda and me to get on the same page about finances and Christmas. We both had to grow in different areas in order to reach a place we could enjoy. So, husbands and wives have to work together. Start by asking yourself, "What is the main way I want to make our family feel at holidays?" Make sure your goal is biblically-based, then determine what it will take to make that happen. Another question might be, "What kind of memories do I want to create for my children (or for the people I will have in my home)?"
Somewhere along the way you have to determine, "What's the budget?" Start saving money as far as a year in advance, even if it is very little at a time.  Work some overtime or take on some odd jobs to create the finances. If you're inviting others in get friends who share your vision to pitch in. Do everything you can to have peace when you gather together
The most important question is, "What kind of spiritual impact do I want to make?" Get one of my free Christmas story CDs to play. Have someone who can play an instrument come and sing a few songs. Have someone share a devotional. Do whatever you can to make your family and your guests feel loved. If you do, no one will be concerned about expensive gifts.
If you don't want your holidays to create financial stress give your family and friends something that's more precious than money can buy!
CLICK HERE to join me this week and discover more secrets to Overcoming Holiday Depression.