Divine life is a secret hidden in plain sight.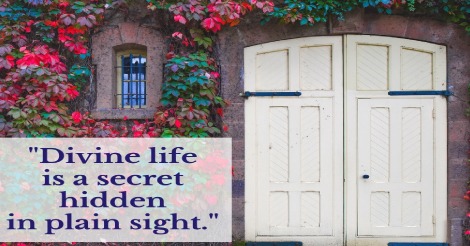 Surrendering to the Lordship of Jesus is the entrance into what He called the "Kingdom of God." To enter this realm, the Bible teaches that we must pass through the doorway of our heart. In God's Kingdom, we pursue His wisdom, moving us from a one-dimensional mindset of "right and wrong" to a logic full of clarity, insight, and peace.
At salvation, we experienced a new nature when the Holy Spirit came to live inside of us. "Christ in us", our new nature, perceives the Kingdom of God. To step into this realm, we must "put on Christ" for the transformation that changes us transforms our hearts and changes us from the inside-out. Acts 17:28a, "For in him we live and move and have our being." Being in Christ is not just what happens internally; it is a power that is continually expressed and influences the world around us.
I want you to discover the secret that is hidden in plain sight. By looking at Jesus' interpretation and application of Scripture, you can find the door to the realm I call "Divine Life." As you learn to live from your heart, it becomes a lifestyle for continually experiencing heaven on earth.
To discover more truths behind Finding Divine Life, CLICK HERE to watch this week's CyberChurch message! 
Join Our Mailing List!
Subscribe to our mailing list and you'll get notifications of new posts along with advanced notifications of sales, special offers, and subscriber-only discounts!
Welcome to the Impact Ministries family! Please check your email to confirm your subscription!