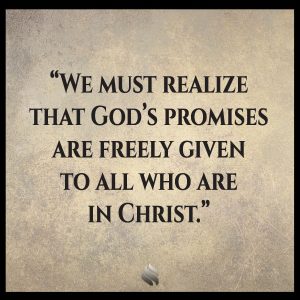 Every person who's honest will often realize and admit that they are standing in the gap between what we know to be the promises of God and the actual manifestation of those promises. This is where your understanding and faith will be tested, not by God but by your own heart!
We must realize that God's promises are freely given to all who are in Christ. That is His part; that is what Jesus accomplished through His death, burial and resurrection. Now our part is to take hold of them and bring them unto ourselves by faith: trusting God!
One of the great enemies of faith and fruit of a heart that is not established in the New Covenant is wavering! Wavering is when we emotionally shift from one position to another. This shift occurs because of where we place our attention. We look at and consider the promises of God causing us to feel safe and secure. Then, we start looking at our circumstances and our emotions change. The person who shifts back and forth cannot take hold of the promise of God!
I want to show you how to establish your heart in the promises of God and close the gap between the promises and the manifestation. JOIN ME this week and get the tools to begin closing the gap!