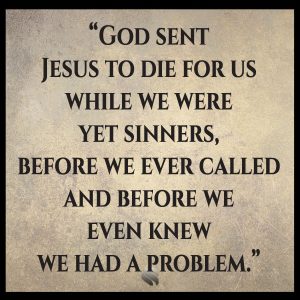 One common unscriptural concept is that God waits until the last minute after we've taken all we can bear and then He finally shows up at the midnight hour! We reach these types of beliefs not because we see it in the Bible, but because that's usually our experience.
The Bible says before you call I will answer! God sent Jesus to die for us while we were yet sinners, before we ever called and before we even knew we had a problem. Before we had knowledge of it, He preemptively gave us all His promises in Christ.
We typically twist this Scripture: God is faithful, who will not allow you to be tempted beyond what you are able, but with the temptation will also make the way of escape, that you may be able to bear it (1 Corinthians 10:13) to say, just before you get all you can take God will deliver you. That is clearly not what this Scripture says.
God is love; we are precious to Him; He holds us in high regard. He never lags in the promises. In fact He says… now is the accepted time; behold, now is the day of salvation (2 Corinthians 6:2). Right now is the time, not later!
God was there with us before our problem and He never leaves us. The Holy Spirit attempted to lead us in a way to avoid the problem. But the truth is, we only see God when we open our heart to His solution. God doesn't show up at the last minute; we try every option first and when all else fails we trust God. Then we say, "He showed up at the last minute!"
JOIN ME this week. I want to help you trust God to such a degree that you trust Him first, before all other options. I want you to begin the reality of His presence and His solution before the problem occurs!