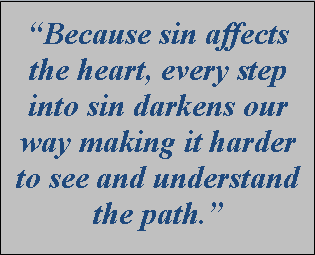 One of the peculiarities of sin is the same sin never affects two people the same way and, no matter how innocent it is, it has the potential to set your entire life off course.
Hebrews warns us the deceitfulness of sin is that it hardens/darkens the heart. The heart is where God speaks to us, leads us and is the seat of our identity. Because sin affects the heart, every step into sin darkens our way making it harder to see and understand the path.
As our life becomes harder our Religionist influence kicks in and says, "This is God punishing me." The truth is, God is never punishing us for our sin but our conscience becomes corrupt, our ability to see God as He is and see ourselves as we are to God becomes twisted and we either run away from God or turn against Him!
As our Shepherd, God is always leading us away from pain and lack, but a darkened heart doesn't hear His voice or perceive His leadership. As we stumble down the crooked path we are destroyed by our own doing. But be assured, God never gives up on you. The minute you come to your senses and turn back toward God you will discover that He has been there all along. CLICK HERE to join me this week and learn God's plan for Coming Out of the Darkness!