In the way of righteousness is life, and in its pathway there is no death. Pro. 12:28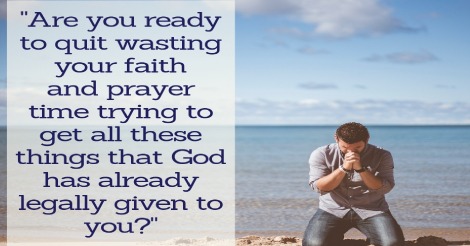 It was from this verse that I developed the concept of living free from the need to continually remind God of what I needed. The serendipity principle presents the idea of going somewhere for some reason, and, along the way, you find those things that benefit you, although you weren't really looking for them. The way of righteousness is a biblical expression of serendipity.
Jesus encourages us to "Seek first the Kingdom of God and His righteousness, and all these things are added to you." Jesus' teaching on the Kingdom of God enables us to enter a realm, or walk a path completely foreign to us called the "way of righteousness." Divine Life is living a life free of struggle, striving, straining, and needing rescued time after time. In the Kingdom of God, we simply enjoy the Kingdom of Heaven (all of God's resources), never having to remind or convince God of anything.
Are you ready to quit wasting your faith and prayer time trying to get all these things that God has already legally given to you? If Jesus is your Lord, you will follow Him on the way of righteousness into a quality of life where you serendipitously find what you need to make your life enjoyable, fulfilled, and as it should be!
If you'd like to discover more truths behind Finding Divine Life, CLICK HERE to watch this week's CyberChurch message!