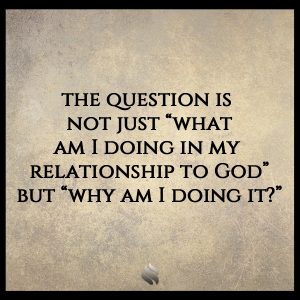 The writer of Hebrews warned that we should understand the foundational principles before we move on to the more weighty issues of righteousness. He also warned that as more move forward we should not cast away the foundational principles.  Among the foundation principles was repentance from dead works. The thing that determines dead works is more about the motive than the action. So, the question is not just "what am I doing in my relationship to God?" but "why am I doing it?"
People can do all the right biblical things for the wrong reasons and it becomes a dead work. Anything not done from faith is sin. (Romans 14:23) When I don't trust God I pray, worship, go to church and read my Bible to earn something from God.  When I do trust God I do all these things for different reasons which makes them good works. We are saved unto good works! (Ephesians. 2:10)
John 17:3 says: this is eternal life, that they may know You, the only true God, and Jesus Christ whom You have sent. To experience abundant life we must experience God through the Lord Jesus. Until we experience God we just have information. The information does not contain the life, the life is in Him. The information lights our path to Him. CLICK HERE and join me this week to discover the paradox of good works and dead works. Discover the secrets to turning your information into experiencing the life of God!