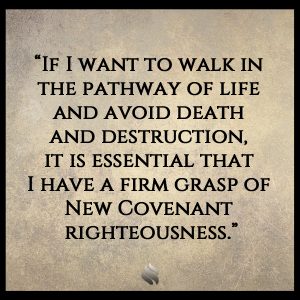 This issue of righteousness is intimately connected to our capacity to experience the abundant life.  Proverbs 12:28 says, In the way of righteousness is life, And in its pathway there is no death. If I want to walk in the pathway of life and avoid death and destruction it is essential that I have a firm grasp of New Covenant righteousness.
There are many components to righteousness but since we tend to reduce it to a singular behavioral concept we don't know how to relate to reconcile positional righteousness and behavioral righteousness. Many pop theologians limit righteousness to some abstract state that we obtain by believing we are righteous.  That is a half-truth that leads to confusion. It is absolutely essential that we believe we are righteous as a result of being in Christ! However, if we embrace the full concept of righteousness it is much bigger than that.
One of the New Testament concepts of righteousness is "the state of him who is such as he ought to be." How I ought to be is happy, fulfilled and living the abundant life. This is more than just my position in God; this is also my position in life. Righteousness has always in all language been connected to virtue, morality and ethics. In fact, it is always self-evident. In other words, it is always obvious in how we live. The Hebrew word for righteousness gets into our loyalty in observance of God's will.
So righteousness for the New Testament believer is a gift, but it is not a passive gift. It is active and has power to manifest in our life just as it is in our heart. Grace, God's power, reigns through this righteousness. In other words, grace is the power that manifests the righteousness of your heart in your life.
CLICK HERE to join me this week and discover how trusting the wisdom of God's Word will manifest in your life being as it should be, according to the finished work of Jesus.