We live in the illusion of what we've learned. We can learn something different!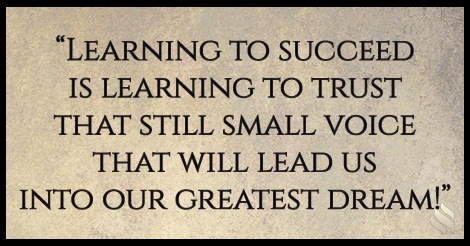 While taking an exam for my certification as a substance abuse counselor, I took my teacher's advice, "Forget all you know and allow what you need to come to you." Learning to succeed from a heart perspective doesn't mean we stop learning nor does it devalue academic learning, but it does mean that when our heart beliefs support being a success, we won't need to strive for all the right answers. We stay in the place of peace. More than anything else, learning to succeed is about learning to believe!
But there's an even greater aspect of learning to succeed: God speaks to our heart! Learning to succeed is learning to trust that still small voice that will lead us into our greatest dream! Learning to succeed beyond our present academic knowledge or current skill set is learning to listen to and follow our heart. It means learning to trust the voice of our heart instead of the ranting of our mind. It means investing in our heart equal to that of our mind!
The way of the heart is a way of peace that passes anything you have ever experienced with your mind! In time, you will learn to trust your heart more than you trust anything else. It becomes the first place you will look for the wisdom to succeed. It becomes the first place you will go to find all of life's solutions.
CLICK HERE to discover how being "Wired for Success, Programmed for Failure" can create "Resolutions That Work."
Join Our Mailing List!
Subscribe to our mailing list and you'll get notifications of new posts along with advanced notifications of sales, special offers, and subscriber-only discounts!
Welcome to the Impact Ministries family! Please check your email to confirm your subscription!