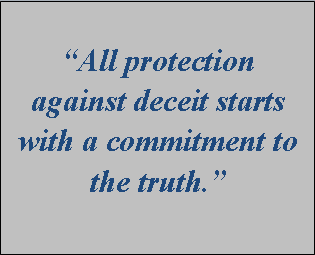 Jesus taught that as the end time approaches deception will be prevalent and many believers will be led astray. In fact, He warned against deception more than anything else. We need not live in fear that we will be deceived, but we should be incredibly vigilant in guarding our heart and mind against deceit, i.e. darkness.
All protection against deceit starts with a commitment to the truth. We must discover the truth and renew our minds by the washing of the water of the Word and an intention to live the truth.
All deception begins with darkness and darkness occurs as we leave the light. Jesus is the light! He is the only accurate representation of God and He provided the only accurate interpretation and application of God's Word. To the degree that we interpret or apply God's Word differently than how Jesus taught and modeled it, we are in darkness and we are creating a false image of God and His Word.
As long as Jesus' life, teaching, death, burial and resurrection is the center of our life, the source of our image of God and the perfect representation and interpretation of God's Word we will never go into darkness; therefore, it will be impossible for us to be deceived. To the degree, however, that we embrace our own opinions or the interpretations of others we will find ourselves in degrees of darkness, not being able to see and perceive what is true and what is false.
CLICK HERE to join me this week as we explore Coming Out of the Darkness. Establish your heart in the life, light and love of God!