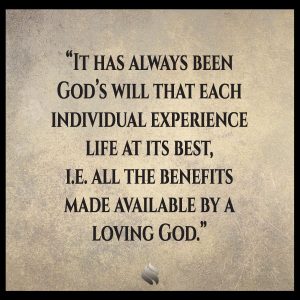 That's sort of like someone saying, "I just wish I knew the will of God!" If you've got a Bible, have read it and believe it, you know what the will of God is, i.e., you know God's opinion about you and your life. It has always been God's will that each individual experience life at its best, i.e., all the benefits made available by a loving God. Even when we sin, fail or turn against God, His will/desire for us never changes. The Bible says that even when we are unfaithful He remains faithful, i.e., He never changes! He is good and only good!
God's will for your life is this: everything that Jesus accomplished for you is already yours for the taking. All that Jesus delivered you from, you are free from by choosing! All that Jesus is, you are if you desire to be! Anything we are experiencing different than what Jesus has done for us is our choice, not His!
If you want to discover more about how to take hold of what's yours in Christ CLICK HERE. Become completely confident in God's will for you, His opinion about you and the quality of life He offers!