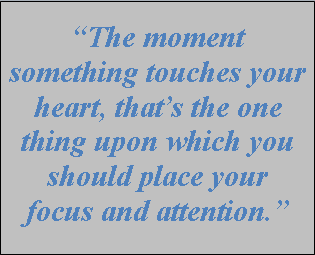 It is overwhelming to consider how many sermons we hear and how much information we are given to process in a year! But we have to remember some really important things about sermons. The information in the sermons we hear is not life. Learning all that information will not improve our life, it will just provide us with interesting talking points. But there is a way to make all that information work for you without becoming overwhelmed or intellectually bloated.
The most important part of any sermon we hear is what inspires or speaks to us personally. The moment something touches your heart, that's the one thing upon which you should place your focus and attention. Remember, when you receive an inspiration you must take ownership of it quickly before you lose it. Even if you have to tune out what is being said, make notes of every inspiration, thought and idea that floods your mind. If you need to, leave the service to find a place to pray and connect with God (if you're unable to do that in the service). What God says to you in your heart because of what you're hearing is always more important than anything you will hear.
Information is light and light isn't life. The light is designed to illuminate the path we are called to walk and show us our way to God's truth in a situation but, at the end of the day, it does not become life. Truth is like a painting of beautiful scenery. The question is, do you want to buy the painting or does it inspire you to go see the scenery for yourself? When the Word you hear inspires you to connect with God personally you will discover the life that the sermon promises.
CLICK HERE to join me this week in Impact CyberChurch and discover how The Light in the Darkness will lead you to the life of God.