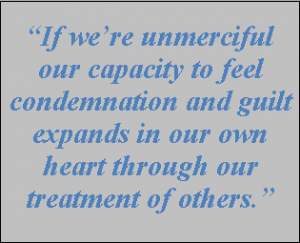 Fortunately, Jesus shows us how we can connect to God's mercy and even expand our capacity to feel His mercy! The law of sowing and reaping can work for us or against us. The destructive things we sow in the lives of others aren't just given back to us. When we fail to walk in love it affects our heart and mind. If we're unmerciful our capacity to feel condemnation and guilt expands in our own heart through our treatment of others. Eventually we come to see the worst in everyone and we point out faults and criticize. But the problem is, we feel that's what people do to us, whether they do or not. It becomes a self-fulfilling prophecy.
But when we show mercy, starting in our prayer life our capacity to feel the mercy and kindness of others expands exponentially! We even get to a place where we don't notice criticism or judgment. Instead, we notice and experience even the slightest kindness from others. More importantly, we're able to connect to God's abounding mercy and love.
Join me this week as we discover the secret to Getting Better than You Deserve. You'll learn how to plant seeds of mercy in prayer which will overtake your entire life. To join me and others from all over the world in Impact CyberChurch and discover the incredible peace that comes from really feeling His mercy click here!