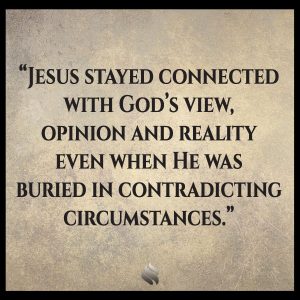 Like so many things that are freely given; we seem to fail to grasp that they are ours but we must choose them, put them on or come alive to them! If Jesus is our Lord, He is our model for everything we will ever do in this life. He became our sin and died separated from God, and went to the abode of the dead.
God's Word had said many things about Him; it had given Him many abundant promises. We know that in while being held in death, Jesus worshipped the Father, acknowledging all the truth that was ever spoken about Him, and every promise made to Him. When we are surrounded by death and circumstances that seem to negate every promise of God we tend to agree with our circumstances. Even worse we doubt God, considering Him unfaithful to His promise toward us!
Jesus modeled how we could experience resurrection out of anything less than the quality of life promised by Jesus. Romans 6:4, says "…we were buried with Him through baptism into death, that just as Christ was raised from the dead by the glory of the Father, even so we also should walk in newness of life." Jesus stayed connected with God's view, opinion and reality even when He was buried in contradicting circumstances. He was raised up by that glory! When we acknowledge, worship, meditate and ponder the promises of God until they become our only reality, this will be the reality we experience.
We will be raised up into the version of God that we experience as real. This is the path of righteousness; this is the path that reveals the greatness and splendor of God. But it can only be seen by those who share His version of reality! CLICK HERE and join me this week and learn to walk in The Path of Righteousness!