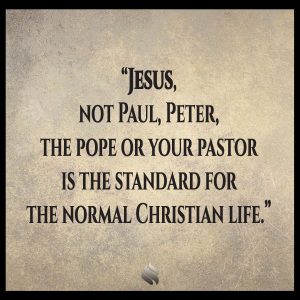 Jesus is our model. He showed us exactly who God is, His true character and nature. He never did anything differently than how God the Father would have done it. By so doing He showed us that it is always God's will to have victory over the devil.
Jesus also showed exactly what we could do if we trust Him, i.e. trust that we are who God says we are. Then He said, He who believes in Me, the works that I do he will do also; and greater works than these he will do, because I go to My Father. (John 14:12)  Jesus, not Paul, Peter, the pope or your pastor is the standard for the normal Christian life.
Religion has done to us exactly what Lucifer, the father of religion, did to Adam: it has convinced us that we are not who God says we are, do not have what God says we have and cannot do what God says we can do! Raise your standards! No matter how many times you have failed, been conquered or made a mess of your life, that doesn't change the truth. Today, make up your mind that you can do what Jesus did!
JOIN ME this week and establish your heart and mind in the absolute truth about God, Jesus, yourself and the devil!