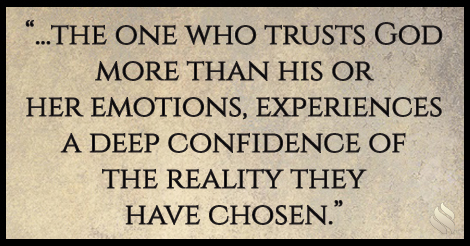 There are two realities; one is your reality. It is the way we perceive God, ourselves and circumstances. Then there is God's reality: the way He presents Himself, how He sees us and how He sees our circumstances. The power that works in us is based on which of those realities we consider to be true. God sees you as set apart from sin and unto righteousness; He sees you as whole, well and energetic; He sees you as one who always wins over the circumstances. But we tend to see ourselves very differently than God sees us! We tend to trust our emotions which are driven by our thoughts. But the one who trusts God more than his or her emotions experiences a deep confidence of the reality they have chosen.
Paul gives us some insight into experiencing grace, i.e. God's power, for experiencing God's reality instead of your own reality, when talking about the way to deal with temptation and sin. God's reality says you are dead to sin, sin has no dominion over you, (Romans 6:14). Although that's God's truth, it doesn't become our truth until we experience it as being real. For the person who chooses to make God's truth become his or her own it starts with a simple decision.
When we consider God's reality to be the truth and our reality to be the illusion, it's as simple as considering it to be so! Making this choice at every turn activates grace in our hearts and gives us power to live in God's reality. JOIN ME this week and discover the reality of your absolute victory over sin and death… then step into a new reality!
Join Our Mailing List!
Subscribe to our mailing list and you'll get notifications of new posts along with advanced notifications of sales, special offers, and subscriber-only discounts!
Welcome to the Impact Ministries family! Please check your email to confirm your subscription!