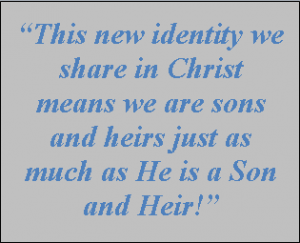 The fundamental truth that should undergird our entire experience as believers is that we're a new creation. I may be the same person, but now my spirit is alive to God. I have the constant witness of the Holy Spirit that I'm a child of God. This process begins when we hear the Gospel of Peace and believe in our heart that God raised Jesus from the dead, then it comes to manifestation when we confess Him as Lord!
Believing in our hearts that God raised Jesus is a journey. Over time the more we learn about the resurrection, the more we adjust what we believe and confess; thus, the more we experience a shift in our identity. When we believe something in our heart it always changes the way we see ourselves. As we connect in our heart to Jesus' resurrection we become more infused with the reality that we've been raised up with Him. In time, we come to share in His victories, His inheritance and His identity! In Christ you don't lose who you are; you become the best version of who you are!
This new identity we share in Christ means we are sons and heirs just as much as He is a Son and Heir! What's His is ours. God sees us just as He sees Jesus. This can't be comprehended with the mind, only the heart. This also means the more we connect to God as Father, the more deeply-rooted we become in our sonship and identity. I'm a Richards because of my father; likewise, I'm a King's kid because of my Father!
This positive, uplifting message, Knowing God as Father, will move you more into this incredible realization. Experiencing God as your Father will revolutionize every aspect of your life! Listen or view now in Impact CyberChurch!
Join Our Mailing List!
Subscribe to our mailing list and you'll get notifications of new posts along with advanced notifications of sales, special offers, and subscriber-only discounts!
Welcome to the Impact Ministries family! Please check your email to confirm your subscription!