The quality of life Jesus promises can't be separated from righteousness.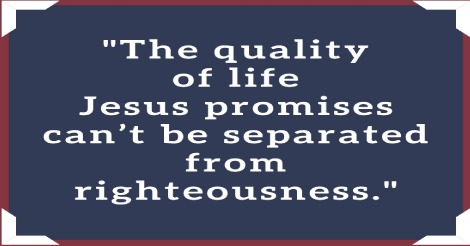 Righteousness speaks of God's integrity, purity, virtue, uprightness, and His correctness in thinking, feeling, and acting. Jesus expressed God's righteousness in every area of life. We can easily look at how He lived, what He taught, and what He accomplished through His death, burial, and resurrection and determine if our life is incongruent.
The word "righteousness" comes from the broad concept of "the state of him who is as he should be." It means "as we are or as we should be" because we've been born again into a righteous nature. Jesus was raised up, conquered sin, death, and hell, and we share in this victory by becoming who we are in Him. It is "as we should be" based on our commitment to follow God and walk in love, as well as the fact that we are in Christ.
The person who has an intention to share in the righteousness of Christ is the person who says, "It's my intention to think, feel, behave, & treat people just like Jesus did." Righteousness depicts justice, virtue, and every aspect of living and relating to God and people. If you want the same quality of life God has, in a way that never violates love and supports a perfect world, seek righteousness and all these things will be added unto you!
If you'd like to discover more truths behind Finding Divine Life, CLICK HERE to watch this week's CyberChurch message "Entering an Unseen Dimension."