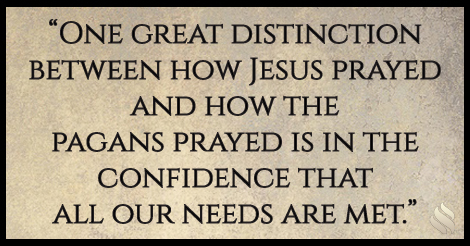 In Matthew 6:8, Jesus warns about prayer, "… do not be like them."  Who is "them?"  They are heathens, those who worship pagan gods. The pagan gods were cruel and demanding. Their followers begged for provision from their gods. For the Hebrew who was actually in faith, every sacrifice was a celebration of what God had already promised.  One great distinction between how Jesus prayed and how the pagans prayed is in the confidence that all our needs are met. He went on to say, "…your Father knows the things you have need of before you ask Him." Jesus' teaching on prayer was an incredible paradox: He taught us how to establish the kingdom in our lives, i.e. the realm where we have access to all the King's resources, yet we never have to ask Him for any of them. If you're tired of begging and ready to live in what God has already provided, JOIN ME this week and we'll learn to pray like Jesus!
Join Our Mailing List!
Subscribe to our mailing list and you'll get notifications of new posts along with advanced notifications of sales, special offers, and subscriber-only discounts!
Welcome to the Impact Ministries family! Please check your email to confirm your subscription!