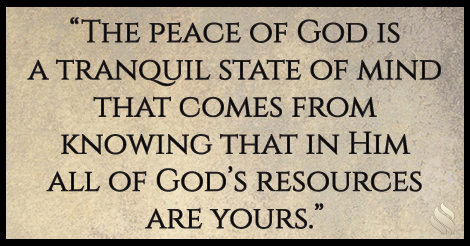 The Kingdom of God is righteousness, peace and joy in the Holy Spirit. When we leave the place of peace we have left the Kingdom realm in our heart. As such, we lose our capacity to receive the resources of the Kingdom. When this happens we are left to our own strength, abilities and resources. This is why the Bible encourages: always let the peace of God be the referee in your heart, (Colossians 3:15).
It didn't say to let any type of peace rule in your heart. For some, peace is the absence of conflict and for others peace is a tranquil state of mind. The peace of God is a tranquil state of mind that comes from knowing that in Him all of God's resources are yours. The peace the world gives can be deceptive, the peace that comes from your strengths will eventually fade away, but the peace of God is enduring.  JOIN ME this week and discover the peace of God that is so incredible it doesn't even make sense.
Join Our Mailing List!
Subscribe to our mailing list and you'll get notifications of new posts along with advanced notifications of sales, special offers, and subscriber-only discounts!
Welcome to the Impact Ministries family! Please check your email to confirm your subscription!