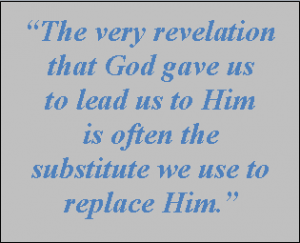 One of the greatest occult doctrines that has been passed down to the modern Church is that knowledge brings life. We have unintentionally replaced having knowledge about Jesus with having a real, active relationship. Jesus said, you search the Scriptures, for in them you think you have eternal life; but you are not willing to come to Me that you may have life. The knowledge of God's Word is light for our path and the source of renewing our minds, but it isn't the source of the life and power of God. Experiencing God through Jesus is the only source of God's Life.
John said, In Him was life, and the life was the light of men. The light was not the life; Jesus Himself is the Life! The knowledge provides us a clear path and leads us to the door of the holy place, but at that point we must enter for ourselves and connect to God and His Life in Jesus!
The world's system says light, knowledge and revelation is what brings life, but it's actually just the opposite. Connecting to the life of God in Jesus personally, intimately and deliberately is the only source of life. Once we experience life we will simultaneously experience light!
How many wonderful revelations have we had, yet our life didn't change?  That's because we thought revelation was all we needed. We didn't allow it to motivate us to connect with God personally. The very revelation that God gave us to lead us to Him is often the substitute we use to replace Him.
CLICK HERE to join me this week in Impact CyberChurch for Angels of Light, Authors of Deception and discover how to move past knowledge and discover the place of experience.