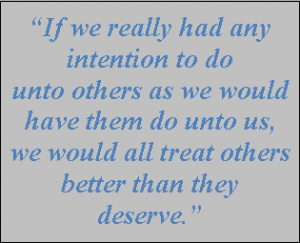 That's not what Jesus said. He said to pray, "forgive us our debts as we forgive our debtors." The word "debt" is not Greek for "sin." He isn't talking about your sins toward God; they're forgiven in Jesus. In this passage Jesus is teaching us how to walk in love, avoid temptation and develop our heart to connect to God's mercy.
Mercy is God's ability to give us better than we deserve, love us when He has no obligation, based on our behavior. If we really had any intention to do unto others as we would have them do unto us, we would all treat others better than they deserve.
A debt, in this context, is something owed, an obligation, or sometimes a fault that offends. In other words, if I paid you, emotionally, what your behavior makes me owe you, I might do harm. But if I give you better than you deserve, I'm showing you God because I'm being like my heavenly Father.
In Luke 6:32-38 Jesus explained that what we give to others, i.e. mercy, love, judgement or hatred they won't only give back to us, they'll give it back pressed down, shaken together and running over. In the model prayer Jesus is showing us the areas we must deal with in order to have God's will and Kingdom established in our life. This is also a primary factor in avoiding temptation of evil. This word is pressure, harassment, chaos, poverty and a decline in our moral character.
When we don't forgive, i.e. send away the offenses of others, God, while He loves and forgives us, cannot send that offense away from us. Why? We are choosing to hold it. This can become our justification for revenge, anger, hatred and all manner of evil. Join me this week in CyberChurch as I share, Getting Better than You Deserve. I want to help you have a life of peace, joy, love and connection with God's abundant mercy!
Join Our Mailing List!
Subscribe to our mailing list and you'll get notifications of new posts along with advanced notifications of sales, special offers, and subscriber-only discounts!
Welcome to the Impact Ministries family! Please check your email to confirm your subscription!