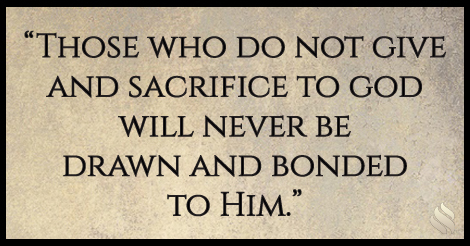 Religious dogma totally ignores what God says about Himself and twists God's Word to fit its own carnal logic. God is love; therefore, giving is His basic nature. We see that in every aspect of His character, nature and behavior. The place where that is most obvious is seen in the fact that He gave to initiate a relationship with mankind.
God already loved mankind, He didn't need anything to make Him love more. But man needed something to draw and bond him to God. Since we were created in the likeness and image of God and God is love, we, like Him, are drawn to love others because of our giving and sacrifice for them. Those who do not give and sacrifice to God will never be drawn and bonded to Him. God never asks us to do anything to meet His needs. JOIN ME this week and discover what religion will never tell you: everything God asks us to do is for our benefit!
Join Our Mailing List!
Subscribe to our mailing list and you'll get notifications of new posts along with advanced notifications of sales, special offers, and subscriber-only discounts!
Welcome to the Impact Ministries family! Please check your email to confirm your subscription!