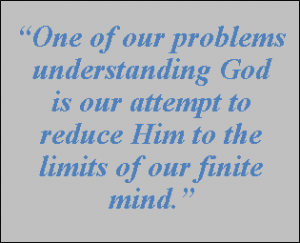 One of our problems understanding God is our attempt to reduce Him to the limits of our finite mind. God is not limited to space and time as we are; He is able to work in our past, present and future. However, using those words to explain His eternal now makes it illogical.
In Mark 11:24, Jesus tells us to believe that we have already received what we asked for in prayer and in so doing we shall receive. Scriptures like this make no sense to the carnal mind, but the New Covenant believer knows that all God has for us has already been given. God has done His part for everything we need; that's why it is called the finished work! This will all become perfectly clear as you join me in CyberChurch for this week's message, The Finished Work of Jesus.
Instead of obeying God's Word and renewing our mind to align with His, we want God's mind to change to align with ours. When we trust God we realize His wisdom, insight, love and justice are far beyond ours. If you want to expand your knowledge of God in 21st century language that makes it more understandable to you check out my series, Miraculous Probabilities: The Science of Faith.