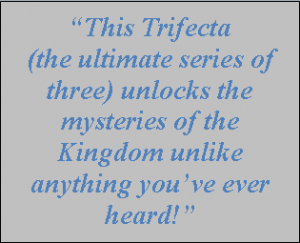 Both the Bible and science tell us secrets of the universe are unlocked based on truth that aligns with the numeric value of three. Ancient Hebrew wasn't only an alphabet but also their system of numbers. All numbers carried specific meanings that unlock the deeper truth of every word in the Bible.
Jesus was the perfect Trifecta (series of 3):Life, Light & Love. This is the "triple-crown" and key to all we need to know to enjoy the abundant life, fulfill our destiny and walk in the light!  This Trifecta (the ultimate series of three) unlocks the mysteries of the Kingdom unlike anything you've ever heard!
In this series you will:
     Discover that life brings forth light

     Learn that light cannot generate life

     Understand that unless we have the life we cannot grasp the light

     Find the key to accurately interpret everything in the Bible

     Uncover the path that leads to life instead of simply finding more information

     Unlock the mystery of 1 John 1:9

     Free yourself from the possibility of ever being deceived

     Open the door to the ultimate reality of activating your faith

     Learn  much, much more…
This series will open your experience of truth, life, understanding and revelation knowledge. It will be an investment in yourself that will pay dividends for the rest of your life!
There is no registration fee for World Changers Weekend, but due to limited space you must register to have a seat. Click Here for: registration!