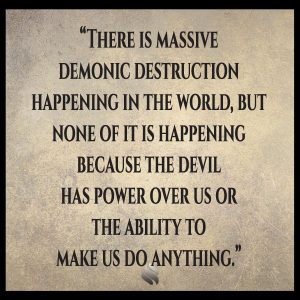 There is massive demonic destruction happening in the world, but none of it is happening because the devil has power over us or the ability to make us do anything. Evil people with evil desires align themselves with the lies that oppose righteousness and they use their authority, power, and influence to bring about evil things.
God gave authority in Planet Earth to man. Not only is there no biblical evidence of it ever belonging to or being given to the devil, the Bible records just the opposite. When Jesus was raised from the dead He declared, "All authority has been given to me in heaven and earth!" If He has all authority, Satan has none!
JOIN ME this week and begin to understand how we ignorantly and unintentionally align ourselves with the devil and allow his destruction in our lives. But more importantly, learn how to put an end to it!