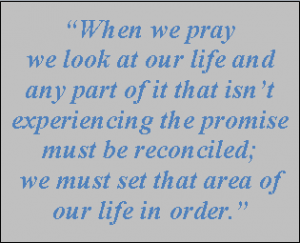 First and foremost, faith is trusting the character and nature of God as presented by the Lord Jesus' life, teaching and resurrection and then because we trust His nature, we trust His Word. For New Covenant believers it specifically means that because we believe on Jesus as Lord we are in Him sharing everything He received at the resurrection. All the promises God ever made to anyone are ours (2 Corinthians 1:20) and we are delivered from all the curses of the law. (Galatians 3:13)
When we pray we look at our life and any part of it that isn't experiencing the promise must be reconciled; we must set that area of our life in order. When we send a problem away and release into our life God's solution we are expressing our trust in Jesus' finished work. We are calling ourselves free from the power of the curse and proclaiming the promise to be ours.
Jesus made this amazing statement: "whatever you ask for in prayer, believe that you have received it, and it will be yours." We have to believe that it has already been given to us. When? It was given to Jesus when He was raised from the dead and it became ours legally when we were born again. We took possession of it when we prayed and believed it was ours. It will manifest in our life at some time.
Join me this week as we talk about How to Set Your Life in Order. We will talk specifically about the paradox of believing that we have received and knowing it will manifest! To join me in CyberChurch click here!
Join Our Mailing List!
Subscribe to our mailing list and you'll get notifications of new posts along with advanced notifications of sales, special offers, and subscriber-only discounts!
Welcome to the Impact Ministries family! Please check your email to confirm your subscription!