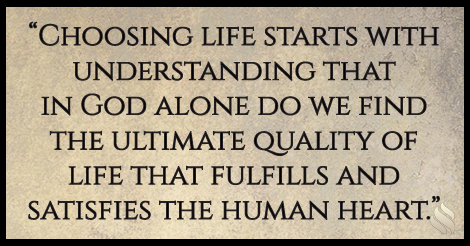 There are two questions we must ask and answer in our hearts when facing any situation. "What do I want,' and 'how do I think it will happen?" One of the earliest biblical imperatives that determines our quality of life is to simply choose life. This directive has an obvious and a more subtle implication. Choosing life starts with understanding that in God alone do we find the ultimate quality of life that fulfills and satisfies the human heart.
If we are not seeking our solution in God first, we have not actually chosen God's quality of life, abundant life, i.e. the quality of life possessed by the One who gives it. The solutions we find through our own knowledge can only replicate the quality of life we possess. Second, choosing life in God means we are very deliberately choosing what we know and believe has been provided through the death, burial and resurrection of Jesus. God only offers what is provided in the New Covenant purchased by the blood of Jesus.
The second question is "How do I think it will happen?" This is where many serious New Covenant believers get off course. We may know the general truths whereby God will lead us, but wisdom, i.e. the application of that truth, comes from the mouth of God! That's where we usually stray from God's provision. We have a specific way we want it to happen. So instead of following our Shepherd into still waters and green pastures, we ask Him to follow and bless our plan. The former is to eat from the tree of life; the latter is to eat from the tree of the knowledge of good and evil.
JOIN ME this week and I will help you discover how to partake of the tree of life in every situation and experience the outcome God has promised.
Join Our Mailing List!
Subscribe to our mailing list and you'll get notifications of new posts along with advanced notifications of sales, special offers, and subscriber-only discounts!
Welcome to the Impact Ministries family! Please check your email to confirm your subscription!