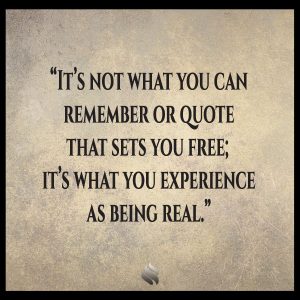 Sadly, because we have completely omitted the need to engage our hearts, we all have biblical information that we know intellectually, but can't get it to work. That's when we need the "18 inch conversion", i.e. the approximate distance from your brain to your heart!
The Greek word for "know" in the New Testament is not about intellect, it is about experiencing the truth as real! Therefore, one of the most misquoted Scriptures may be: the truth will set you free! What it really says is: if you live, abide, remain in the realm of the Word you will experience the truth; then the truth will set you free!
It's not what you can remember or quote that sets you free; it's what you experience as being real. The way that happens is when we abide, we make ourselves at home, and we remain in Jesus' interpretation and application of the Word. This is the same thing He was talking about in the Parable of the Sower: biblical meditation.
JOIN ME this week and begin to discover what Jesus modeled, taught and accomplished in relation to the devil, then you have His Word. Make that your truth and the information you now hold will become the truth you believe and you will be set free!