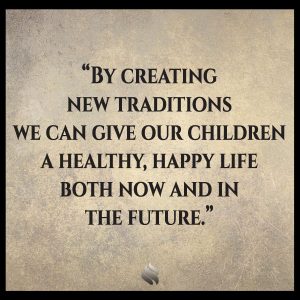 Once something becomes a tradition or a part of our culture it affects our sense of right and wrong. It feels like something we are obligated to do. Sadly, the feeling of right and wrong can become so powerful it can make us feel guilty for doing the right thing. This is why being careful about the traditions we create is an important part of guarding the heart.
As adults we have the opportunity to break the cycles of destruction that may have been in our family for generations. Most of what people call generational curses are actually people repeating destructive tradition and culture. By creating new traditions we can give our children a healthy, happy life both now and in the future.
Our most important personal responsibility is to guard and protect our relationship with God through the Lord Jesus. Therefore, anything that makes one struggle, stumble or self-destruct is something we must avoid or change!
Proactive behavior is always a good remedy for depression. Making choices brings an awareness of our freedom of choice and personal power over our lives. Take a few minutes and write out how you would like for the next holiday to take place. Make a list of how you want to feel celebrating that holiday. Then, start a list of things you could do differently to make those events happen. Before you start that list, CLICK HERE to begin acquiring the tools for Overcoming Holiday Depression.