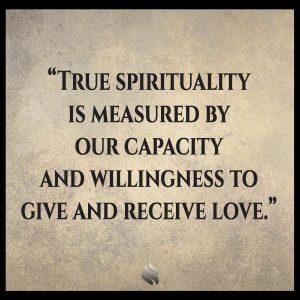 One of the great life deceptions is the separation of the secular and the sacred. There is no secular world. Everything is spiritual. In fact, there are few things as spiritual as our relationship with others. True spirituality is measured by our capacity and willingness to give and receive love. Since God is love; the more we see Him as He is, the more we become like Him which means we see the reason for walking in love.
Since love is expressing value, it is sometimes hard to find and express value for those who hurt us. But when we see people through the eyes of Jesus we not only discover their value, but we discover why love, as God defines it, is the only true hope of influencing them to a more loving life.
Revelation knowledge comes when we change our focal point, we see from a new position. When we see others as someone so valuable to God that Jesus gave His life for them we recognize their value to God even when we realize no personal value for them. When I see my spouse the way God sees them, it is a revelation.
For me, and thousands of others who have applied this: the moment I stop looking at anyone from my place of offense and choose to walk in God's love, my mind opens to other possibilities of how to solve the conflict. When I send away the offense (forgive) by choosing to find their value, I enter the place of peace. Pain and rejection no longer drive my emotions and actions. I can now treat them how I choose rather than how my hurt would dictate.
CLICK HERE to join me this week and discover how revelation knowledge for your relationship can transform your love life!