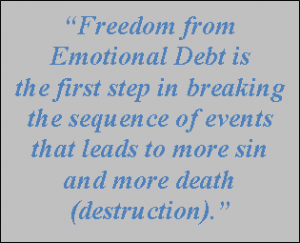 As in almost every area, religion makes dealing with sin a negative, legalistic effort motivated by fear. Sin in our behavior is the result of limiting negative beliefs about ourselves. When we don't see and experience ourselves as we are in Christ we feel lack and that drives us to find something to meet the need.
In Romans, Paul warned believers that sin was still the cause of death and destruction. In other words, everything that's going wrong in my life is rooted in my sense of lack. As we discover who we are in Jesus and put on that new identity we free ourselves from the feeling of lack; therefore, we free ourselves from the endless search to make ourselves feel whole. Freedom from Emotional Debt is the first step in breaking the sequence of events that leads to more sin and more death (destruction).
The first rule for getting well is to stop killing yourself. It's easy to stop anything when we see it as the source of pain in our life. No one needs to tell you what you're doing wrong; you simply need to discover where the pain is really coming from. We're created to avoid pain and pursue pleasure! By discovering and experiencing the goodness of God and the incredible life we have in His promises we'll be drawn to a life of godliness and repelled by that which causes our destruction. This week in Impact CyberChurch you'll discover how easy it is to face and deal with issues when our focus is on Getting Whole Instead of Getting Right!
Join Our Mailing List!
Subscribe to our mailing list and you'll get notifications of new posts along with advanced notifications of sales, special offers, and subscriber-only discounts!
Welcome to the Impact Ministries family! Please check your email to confirm your subscription!