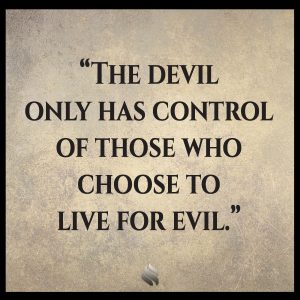 That is a term many believers have used because they think we must cast Satan down from the heavenlies to interrupt his rule over certain cities or geographic areas. Some have gone as far as to charter airplanes to fly around at high altitudes fighting with the devil.
The Bible calls Satan the prince of the power of the air. That word "air" refers to a specific space around Planet Earth to which he is confined that is lower than the mountain tops. The Bible also tells us he has lost all power, position, rank and authority. So, according to the Bible, demons are not floating around in the air controlling anything.
The devil only has control of those who choose to live for evil. He can only affect Planet Earth through willing participants and he can only affect you when you, through ignorance or unbelief, are a willing participant. He rules geographic areas through the people who employ his methods.
The Bible tells us the war is in our soul and it rages because of our desires. So true spiritual warfare takes place in our own mind, emotions and beliefs. But that doesn't mean the devil is in your mind or speaking in your thoughts. It just means you are being tempted to fulfill your desires in a way that is not based on God's Word.
JOIN ME this week and put an end to your struggles. Learn how to live in perfect peace and joy without ever fighting, addressing, acknowledging or thinking about the devil.
Join Our Mailing List!
Subscribe to our mailing list and you'll get notifications of new posts along with advanced notifications of sales, special offers, and subscriber-only discounts!
Welcome to the Impact Ministries family! Please check your email to confirm your subscription!