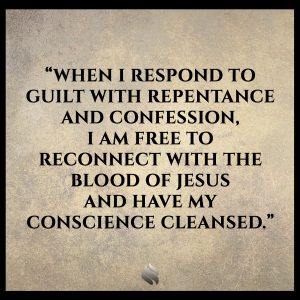 Many aspects of pop theology say guilt is a bad thing. Actually, what we call guilt is the indicator that our conscience has been violated. Guilt only becomes destructive when we respond improperly.
When guilt is ignored it puts us into fight or flight, which leads to hundreds of physical and emotional issues. When we continue in the destructive behavior that produces guilt it hardens our heart so we have no awareness of guilt. This creates the deception that what we are doing is not wrong and damaging. We then continue in that behavior until it destroys us.
When I respond to guilt with repentance and confession, I am free to reconnect with the blood of Jesus and have my conscience cleansed. Repentance is when we change our mind, thoughts and opinions to align with God's Word. Confession is when I acknowledge what God acknowledges: my sins have been forgiven by the death, burial and resurrection of Jesus. Then as we connect with Him, His blood cleanses our conscience. We not only become free from guilt, but we are freed from that which caused our dysfunctional behavior.
CLICK HERE to join me this week and discover how The Cleansing Blood of Jesus continually works in our heart to cleanse our conscience. Discover freedom from guilt that sets you on the course of life!