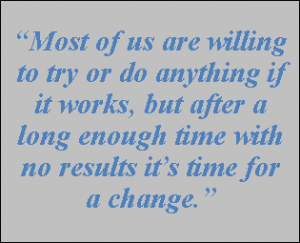 The truth is, much of the Christian world has lost confidence in prayer! The Book of Job presents this question: Who is the Almighty… and what profit do we have if we pray to Him (Job 21:15)? Prayer will be fervent as long as there's the expectation that it will be effective. When we lose our expectation of our prayers being answered it moves from being the right of a child addressing his Father to a religious obligation and it will soon be abandoned. So many are giving up on prayer because they're frustrated with a lack of results. Most of us are willing to try or do anything if it works, but after a long enough time with no results it's time for a change.
We all know we should pray, and there's a part of us that desires to pray. The problem is we just don't really know how to pray. There are some reasons for our confusion: 1) There are many different types of prayer but we attempt to roll them all into one. 2) We are not rooted in the New Covenant; therefore, most of our praying is rooted in the Old Covenant. 3) We don't understand the dynamics of faith (things that have been accomplished). 4) We don't know how to have a prayer life without becoming religious or legalistic. 5) Possibly the worst factor is we don't even know what the word "pray" means!
I have good news for you! In my CyberChurch message, Effective, Fervent Prayer, I'm going to help you overcome these five obstacles and more. I'll lead you into a prayer life that is personal, positive and produces real results with no religion and no formulas, just a loving, intimate connection with the Father based on the finished work of Jesus.
Join Our Mailing List!
Subscribe to our mailing list and you'll get notifications of new posts along with advanced notifications of sales, special offers, and subscriber-only discounts!
Welcome to the Impact Ministries family! Please check your email to confirm your subscription!