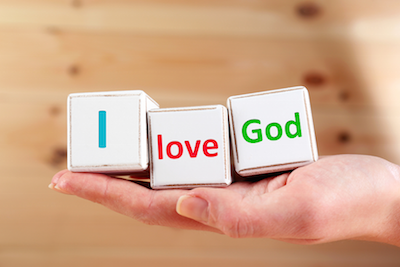 More than thirty years ago I was the primary voice that was declaring we have too much emphasis on our need to love God and not enough emphasis on God's love for us. It was such a refreshing relief for so many.
Based on what religion had taught us it was all but impossible to actually be in love with God. We were made to fear Him and His "impetuous, unpredictable wrath." Then we were condemned if we did not love Him. It seemed there was no connection to the fact that fear drives out love. You can't be afraid that someone will harm you and actually love (value and consider them precious) them. The result was condemnation for our failures, fear of God's wrath, and feelings of guilt because we knew we didn't really love and trust Him.
I have seen tens-of-thousands of people fall in love with God by the simple realization that He loves us. He loved us when we were sinners and He loves us with all of our shortcomings and failures. As the Apostle John said, we love Him because He first loved us (1 Jn 4:19). It's so easy to love someone who loves you!
But now, as always happens when people take an intellectual approach to understanding truth, the pendulum has swung to the other extreme. Now something more deadly and destructive has emerged: "God loves me so it doesn't really matter if I love Him!" I hear people preach about the love of God and rather than it being a help and encouragement to us experiencing all we have in Christ, it is a list of all we don't have to do since He loves us. I am watching people dive into destructive ways of living, losing their destiny, destroying their families, and falling back into old patterns of sin from which they had been delivered… all under the mantra of, "No matter what, I know God loves me."
I know God loves us… no matter what. I was the one who coined the phrase God is not mad at you no matter what! But I also know that sin still kills. I so often think back to Whitney Houston's interview with Diane Sawyer about ten years before her untimely death. She was so skinny she looked like a meth addict you see begging for spare change. She was unable to conduct an intelligent conversation. Just as the interview was coming to a close she quickly leaned in and rushed the final words, "No matter what you've heard, I know God still loves me." She was exactly right! I'm so glad that she had some comprehension of that fact. But God loving her didn't save her life. It didn't give her daughter a mother. But her life would have been saved if she loved God! I've seen this same scenario played out in the lives of thousands of people around the world.
God loving us while we are unfaithful to Him is like a man who cheats on his wife because he knows she's not going to leave him. He knows he can treat her any way he wants. No matter how you justify it, this is not love. Sadly, even though God continues to love us, when we don't develop love it hardens our heart.
It is time for us to get back to a simple truth that has been lost in all the "flaky theology." God loves us with the hope that we will love Him. When we love Him we trust Him and when we trust Him we obey His truth. When we obey His truth we treat others the way He would have us treat them. This is when love has been perfected!
We all have some comprehension of the importance of love:
• It is the core motive of all God has ever said or done which makes trusting Him easy.
• If we desire to be godly, it must be the motive from which all our behavior flows.
• It is the ultimate character trait of a disciple of Jesus.
• It is the naturally-occurring fruit that comes forth when we are yielded to the Holy Spirit.
• Love is the bond of perfection: the moral and emotional completeness which is the highest goal of all spiritual growth!
But God's love has not reached its goal nor does it have the power to produce all the wonderful promised attributes until it is accepted, trusted, experienced, and reciprocated! The goal of God's love is not fulfilled if we do not fall in love with Him. Until we fall in love with Him love can degenerate in an idea, a philosophical point of view void of God's transforming power.
Our relationship with God is no different than any other; in the beginning love is natural and reciprocal but it often wanes. Jesus Himself tells us to return to our first love.
Love is the root; everything else is merely the fruit. When we resolve this root issue everything else falls into place.
World Changers Weekend 2015
Join me and some of my most trusted friends July 17-19 for World Changer Weekend in Huntsville, AL, we will share some of our struggles and our personal story of reconnecting with our First Love! There is no registration fee but registration is required. Space is limited and our first options go to our World Changers.
This event is held each year for our World Changer Family. But we want to invest in and encourage everyone we can. We would love to have you as our guest compliment of the Impact World Changer Family. (click here to learn mere)
Join Our Mailing List!
Subscribe to our mailing list and you'll get notifications of new posts along with advanced notifications of sales, special offers, and subscriber-only discounts!
Welcome to the Impact Ministries family! Please check your email to confirm your subscription!