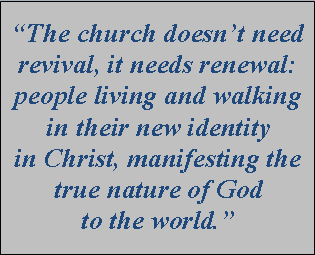 Revival is a word that isn't found in the New Testament. There's nothing wrong with the word itself, but the concept has become very twisted. The concept of revival says, "If we can get enough people fired up or have enough miracles happen the world will see the glory of God in us and they will come to Jesus!" Neither the Bible nor history actually supports that view.
I have talked with many revivalists over the years who all pretty much agree they can go somewhere and have a phenomenal meeting only to come back a few months later and realize when they left town, the revival left with them!
Public meetings have their place, but the biblical and historical model for reaching the world has been a combination of house-to-house and public meetings (Acts 20:20), all of which have the goal of making disciples, not converts. The Church doesn't need revival, it needs renewal: people living and walking in their new identity in Christ, manifesting the true nature of God to the world.
Jesus came and showed us the true nature and character of God. He taught us the goal of everything God ever said was to inspire love for God, love for others and love for ourselves (Matthew 22:37-40). When the world saw God as He really was instead of the way religion presented Him they turned to Him. When they saw Him through the life of Jesus they realized God loved them and was never the source of their pain and suffering.
Jesus said the world will know we are really His disciples when we love one another. What we need is to be disciples who believe what Jesus taught, who express the love of God to a hurting world, who can love what and whom God loves: people, no matter how repulsive their life may be. When we show the world love we'll have "true revival;" but that all begins with each of us experiencing renewal.
CLICK HERE to join me this week as we talk about, Light Reveals Love. Discover how you can be a light in the world that opens people's eyes to the truth about God!